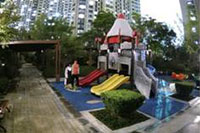 A New Generation of StarView
Uniview recently launched the new generation of StarView series at the Global Partner Summit. The upgraded StarView series cameras kept the great night performance and enhanced to a higher resolution compared to the original generation of StarView cameras.
Fully Upgraded StarView Series
As we all know, high resolution is the trend of video surveillance. However, with the increase of pixels, the light-sensing area of each pixel decreases with the same size of sensor. Uniview launched the new generation of StarViewseries which includes 5MP IP cameras, enabled higher resolution products with excellent Starlight illumination sensibility. The 5MP series applies 1/2.7" backside illumination technology sensor to deliver enhanced low light sensitivity and wide field of view.
UNV StarView series redefines starlight by minimum illumination.The light passes through the aperture and enters into the sensor, hence generates an image. The factor determines the brightness of image is how much light enters into the sensor. The more light enters into sensor, the brighter image an IP camera can produce. The Super Starlight of StarView series is built in F1.2 big iris lens to raise the brightness. And it can reach up to 0.0005 luxillumination.
Comparison between Uniview 5MP StarView and iphone 7
Uniview has a rich experience on ISP imaging by years of accumulation. We applies the exclusive ISP technology on the new generation of StarView. By utilizing Hisilicon DSP (Digital Signal Processor) and fully supporting Ultra 265 video compression technology,cameras of the new StarView series can detect the environment illumination intelligently, and switch to appropriate parameters configuration, promote SNR (Signal-to-noise Ratio) and image definition, and especially reduce smearing for moving object.
Starlight shouldn't be an academic project in the lab, either a complicated configuration procedure for installer. Uniview insists on providing the most easy-to-use and user friendly Starlight cameras for customers. The cameras have default parameters configuration for Starlight mode, and are easy to switch to static or moving application by one-click setting.