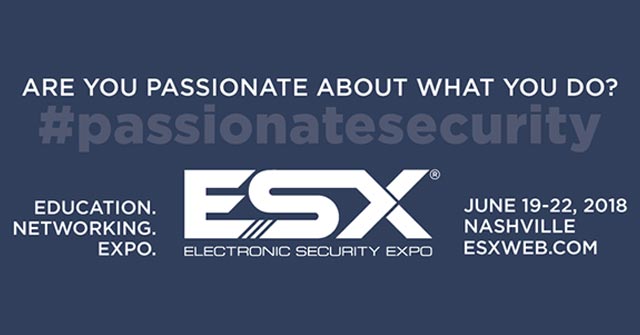 Uniview Technology exhibiting at Electronic Security Expo (ESX) June 19-22 in Nashville
Coppell, TX – May 15, 2018 – Uniview Technology (uniview tec), the New Alternative for smart, innovative and feature-rich network video security solutions, will be exhibiting at the Electronic Security Expo (ESX) next month. ESX is being held at the Music City Center in Nashville, TN June 19-22, 2018. "This conference and trade show for electronic security and life safety dealers, integrators, and monitoring companies is a must-attend event for industry professionals who are serious about growing their business and competing at the next level".
At the ESX show uniview tec will display cutting edge network video solutions, such as 128-channel network recorders with support for 48 x 8TB hard drives, PoE network switches, 360° panoramic vandal dome and Pan-Tilt-Zoom dome cameras with up to 12MP resolution and the newly released 5MP camera line, with StarView illumination technology, redefining starlight with extremely low minimum illumination for crisp color images. All uniview tec cameras feature super-efficient H.265 video compression allowing bandwidth savings of up to 75% and are available in a wide range of housings and lens configurations. Each camera and NVR supports cloud upgrades for firmware updates and is backed by a powerful, easy to use Video Management System for Windows and Mac computers, as well as Mobile apps for Apple and Android devices.
The uniview tec management team is committed to offering excellence in product availability, customer support and a constant fresh infusion of additional products to compete at the next level. Services offered to dealers and integrators include Sales and Marketing Support, Product Training, Quality Assurance, Technical Service (domestic warranty and out of warranty product repair) and Supply Chain Management. The sales and support organizations are comprised of a team of local Inside Sales Specialists, Call Center Representatives, and Technical Sales Specialists located in Dallas and a team of Regional Sales Managers geographically positioned across the country. All are dedicated to provide a high level of customer support, and our fully stocked warehouse in the Dallas/Fort Worth metro area is centrally located, ideal for 2 day shipping to most of the 48 contiguous states.
So take a good look at all Uniview Technology has to offer your business, church, school or home. uniview tec — the New Alternative for affordable network video security product and service solutions
About Uniview Technology
Uniview Technology offers smart, affordable and high quality IP video security solutions that enable a secure and safer world. As a market leader in network video, uniview tec continues to drive the industry by launching new and innovative network products, delivering feature rich products the industry demands at an affordable price. Visit us at: www.univiewtechnology.com.