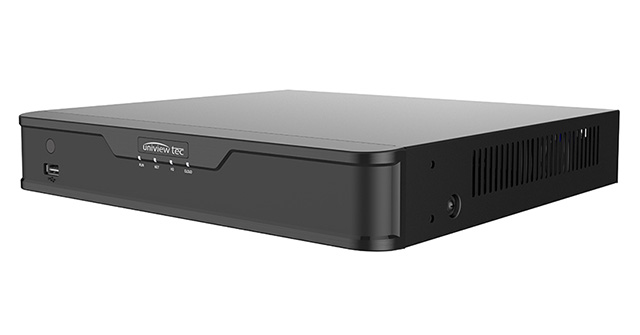 Uniview Technology Releases New Hybrid NVR Series
Coppell, TX – June 26, 2019 –Uniview Technology (uniview tec), the New Alternative for smart, innovative and affordable network video security solutions, announces the immediate availability of a new series of Hybrid Network Video Recorders (NVR). The foundation of each new NVR is H.265 compression for the best-in-class recording and storage performance, continuing the tradition of adding value and intelligence to the growing uniview tec portfolio.
The Hybrid NVR series includes 3 models, ranging from 6 to 24 camera channels, each one capable of recording a combination of analog (AHD, TVI, CVI and CVBS) and IP cameras with adaptive access. The uniview tec hybrid NVR's support High Definition Analog (HD Analog) over Coax Technology for use in existing coax cable installations, allowing the end user to upgrade to mega-pixel resolution video cameras without the expense of replacing the coax cable. Simultaneously, the hybrid NVR's can also record IP cameras up to 8MP resolution, providing superior flexibility for almost any application.
The new uniview tec recorders support up to two HDD bays of 10TB each and a concurrent display on HDMI and VGA monitor outputs, with 4K resolution video support on the HDMI output. Each hybrid NVR supports ONVIF Profile Series IP cameras, audio and alarm devices and long distance transmission of up to 2000ft over RG-6 coax cable. In addition, each is backed by a powerful, easy to use Video Management System for Windows and Mac computers, as well as Mobile apps for Apple and Android devices.
Centrally located in the Dallas/Fort Worth metro area, uniview tec is uniquely positioned to provide a high level of customer service with a fully stocked warehouse and Sales and Marketing, Product Training, Quality Assurance, Technical Service (domestic warranty and out-of-warranty product repair) and Supply Chain management personnel dedicated to the needs of the customer.
So check out the growing line of intelligent and feature rich products Uniview Technology has to offer your business, church, school or home. uniview tec — the New Alternative for affordable network video security product and service solutions.
About Uniview Technology
Uniview Technology offers smart, affordable and high quality IP video security solutions that enable a secure and safer world. As a market leader in network video, uniview tec continues to drive the industry by launching new and innovative network products, delivering feature rich products the industry demands at an affordable price. Visit us at: www.univiewtechnology.com.