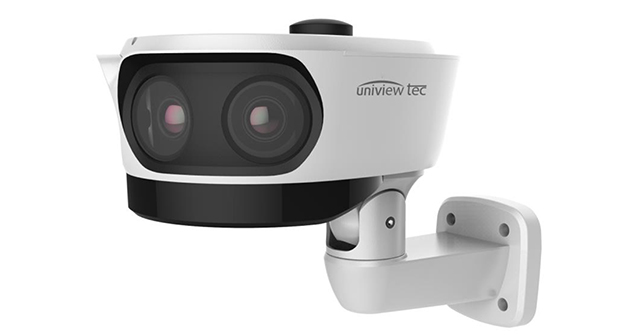 Uniview Technology Debuts New Multi-Sensor 180° IP Camera
Coppell, TX – August 2, 2019 – Uniview Technology (uniview tec), the Secure Alternative for smart, innovative and feature rich network video security solutions, has announced the release of a new multi-sensor, panoramic 180°, IP camera. The new IPBP4K180 bullet camera, with four 2MP sensors working in tandem for a comprehensive 180° panoramic view, will provide an easy, reliable and cost effective one-camera installation, providing a higher return on investment over multiple camera installations.
Each 2MP sensor in the IPBP4K180 is equipped with a 4.2mm fixed lens that gives a seamless 180° panoramic overview, up to 30fps in 4K (8MP) resolution. StarView illumination technology is used to enable crisp, vivid and virtually smear free color video images up to .001 Lux. All of which makes the IPBP4K180 ideal for large outdoor spaces, convention centers and expansive warehouses, where overviews of extensive areas is required without blind spots.
Uniview tec's newest camera offers brilliant 4096 x 1800, 8MP (4K) resolution video with super-efficient H.265 compression for drastically reduced bandwidth and storage requirements for those applications demanding high resolution recordings. The IPBP4K180 camera includes robust features such as TRUE Day/Night for crystal clear images day and night, 120dB Wide Dynamic Range for balanced images in challenging lighting conditions and powerful automotive-grade, Smart IR LED lights that automatically adjust the intensity to avoid over-exposure up to 164ft (50m).
The IPBP4K180 bullet camera offers unique environmental protection features such as an IP67 weather resistance rating; a wide voltage range tolerance of +/-25%; the ability to handle lightning surges of up to 6KV and wide operating temperatures ranging from -40° to +140° F. In addition, the camera is Cloud Upgradable with connection to a uniview tec NVR, offers Automatic Network Replenishment (ANR) with a Micro-SD card slot capability up to 256GB and Video Content Analysis (Analytics) for data gathering.
So check out the growing line of intelligent and feature rich products Uniview Technology has to offer your business, church, school or home. uniview tec — the Secure Alternative for affordable network video security product and service solutions.
About Uniview Technology
Uniview Technology offers smart, affordable and high quality IP video security solutions that enable a secure and safer world. As a market leader in network video, Uniview Technology continues to drive the industry by launching new and innovative network products, delivering feature rich products the industry demands at an affordable price. For more information please visit: www.univiewtechnology.com