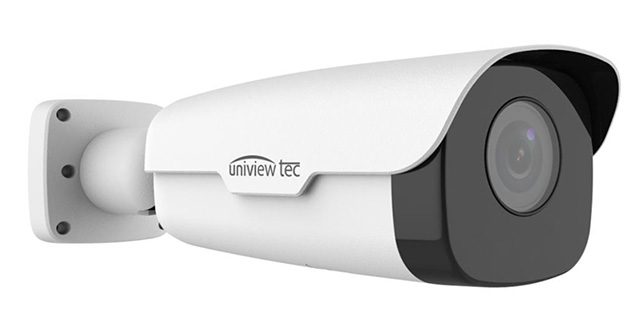 Uniview Technology Launches New StarView Bullet Camera
Coppell, TX – August 14, 2019 – Uniview Technology (uniview tec), the Secure Alternative for smart, innovative and feature rich network video security solutions, announces the launch of a new bullet camera with StarView illumination technology and a 10x long range, motorized lens for easy setup and adjustment in outdoor applications.
The IPB2447M bullet camera is equipped with StarView illumination technology that enables crisp, vivid and virtually smear free color video images up to .001 Lux, while the powerful automotive grade, Smart IR LED lights provide illumination during complete darkness up to 328ft and automatically adjust the intensity to avoid over-exposure. The bullet camera comes with a motorized 4.7 ~ 47mm vari-focal, automatic focus lens for a variety of applications, including those which require automotive license plate images. Designed for outdoor use such as parking garages and gated communities, the IPB2447M comes with an IP67 weather resistance rating and environmental protections such as a wide voltage range tolerance of +/-25%, the ability to handle lightning surges of up to 6KV and wide operating temperatures ranging from -40°F to +140°F.
Uniview tec's newest camera offers brilliant 2MP resolution video images with super-efficient H.265 compression for drastically reduced bandwidth and storage requirements for those applications demanding high resolution recordings. The IPB2447M camera includes robust features such as TRUE Day/Night and 120dB Wide Dynamic Range for balanced images in challenging lighting conditions; and corridor mode, a 9:16 field of view aspect ratio for vertically oriented scenes, which is optimal for narrow alleys, parking garage entrance/exits or other applications where the 4:3 landscaped wide format is not ideal.
As with many of Uniview tec's cameras, the IPB2447M camera is Cloud Upgradable with connection to a uniview tec NVR; offers Automatic Network Replenishment (ANR) with a Micro-SD card slot capability up to 256GB and Video Content Analysis (Analytics) such as Behavior, Exception, Identification and Statistical for gathering data and aiding more efficient use of human resources
So check out the growing line of intelligent and feature rich products Uniview Technology has to offer your business, church, school or home. uniview tec — the Secure Alternative for affordable network video security product and service solutions.
About Uniview Technology
Uniview Technology offers smart, affordable and high quality IP video security solutions that enable a secure and safer world. As a market leader in network video, Uniview Technology continues to drive the industry by launching new and innovative network products, delivering feature rich products the industry demands at an affordable price. For more information please visit: www.univiewtechnology.com