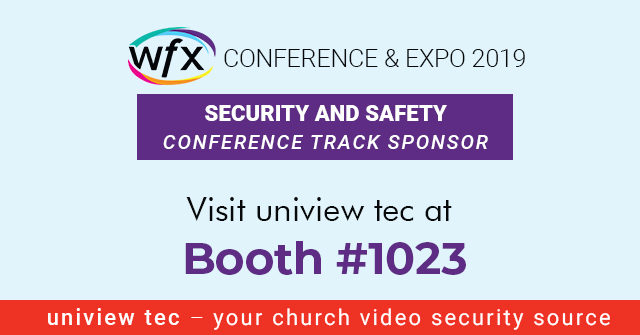 Uniview Technology exhibiting at WFX Conference and Expo in Orlando, FL
Coppell, TX – September 13, 2019 – Uniview Technology (uniview tec), the New Alternative for smart, innovative and feature rich network video security solutions, will be exhibiting at the Worship Facilities (WFX) Conference and Expo in Orlando, Florida on Wednesday, 9/18 and Thursday 9/19 2019. In addition to gaining hands-on training, networking and real-world solutions, church teams will receive much-needed inspiration to grow their church community. Over 225 vendors and manufacturers will be exhibiting in five individual and targeted conferences.
Keith Shaver, VP of Sales for uniview tec, will be presenting "Layered Security Approach for Churches". Keith is a Certified Church Consultant and an associate member of the National Association of Church Design Builders (NACDB). The presentation is part of an extensive collection of sessions presented by security professionals and active participants from various churches with a common focus of protecting church membership, guests and facilities.
With the increasing rates in crimes and vandalism, security has become one of the necessities of life. Employing a security staff or an electronic surveillance system to watch over the church campus is now considered a need rather than a luxury.
The Layered Security Approach is a method used to evaluate the church's security needs by reviewing the current situation, and future needs with a series of questions. The information is used to help determine the type of systems needed – whether it is intrusion, video or access control or an integrated solution. Advanced system capabilities with analytics, reporting, internet cloud backup and multi-site situations will be discussed. Ideal audience segment will be a church representative concerned about adding or updating physical security methods or electronic security equipment within their church. Options will be discussed regarding security teams, video security, access control and intrusion. Church sizes from small to mega church can gain knowledge regarding options during this presentation as the approach offered is a layered approach to start small as needed and grow the capabilities as needs of the church dictate.
So take a good look at all Uniview Technologyhas to offer your church, school, business, or home. uniview tec — your Secure Alternative for affordable network video security product and service solutions.
About Uniview Technology
Uniview Technology offers smart, affordable and high quality IP video security solutions that enable a secure and safer world. As a market leader in network video, uniview tec continues to drive the industry by launching new and innovative network products, delivering feature rich products the industry demands at an affordable price. Visit us at: www.univiewtechnology.com.